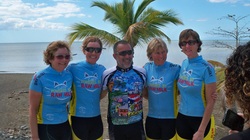 La Vuelta Puerto Rico
.
I had a great adventure, escaping from winter in Belgium. A 3 - day biking tour around Puerto Rico. Our RAAM team, the Raw Milk Cats, were once more together. 375 miles (600 km) in 3 days at high speeds. The organization was great, the biking, the friendships acquired. I would recommend this trip to all those who love cycling, nice warm weather, friends, good food and adventure. The
Raw Milk Cats
; Lori Cherry, Isabelle Drake, Jeanine Spence and I, were so happy to be together again. Our Race Director for La Vuelta Puerto Rico, William Medina, was also our super navigator crew on RAAM. To see more pictures;
Click here.