Fläder saft: Elderberry lemonade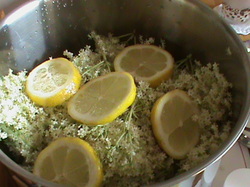 50-100 flowers.
4-5 lemons sliced
2 kg sugar dissolved in 2 liters boiling water.
30 gr ascorbic acid dissolved in water.
Pour boiling sugar water over flower/lemons. Cover the jar and let it stand for approx 5 to 7 days. Sift of the flowers and the lemons and pour into bottles. I would recommend storing bottles in refridgerator, or you can freeze lemonade. Otherwise consider adding some more preservative.