Typical picture of stoker Cat!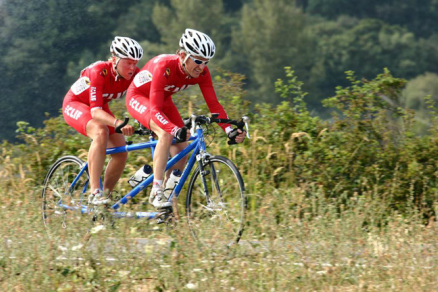 Devil Mountain Double April 24, 2004


Devil Mountain Double, California's hardest double century, and maybe the Nations hardest? 19,000 feet of climbing in 205 miles.
To prove my insanity I decided to do this one on the tandem with my mountain goat captain, Paul McKenzie. Yes, I know riding tandem is like asking for it on a hilly course! I guess I was asking for it. Or, I have just realized that it is so much nicer to get towed around by a strong guy than to race solo. Two years ago I raced solo. My second double and my first California Triple Crown Stage Race. I had had one month to train for that double due to injuries and I knew no one. The weather was terrible, I was freezing so bad coming down Mt Diabolo in the morning that I thought my handlebars were going to shatter due to my hand vibrations. Then going up Mt Hamilton it hailed on me, so coming down that hill, I said to myself `Never again!'. I rode all day alone, flatted on the downhill and was pretty lonely and miserable. Well, never say never.
But with that in memory, I put on arm warmers and vest even though the weather predictions were for hot weather. Just in case. At 6 am the start goes of for the fast group. Slower riders have left at 5 am and all through the day we will therefore get the pleasure of meeting these riders on the course. Paul and I lead the group to the base of Mt Diabolo where our first 4000 feet climb starts. There a group of 3 strong guys, Sean Smith, Jeff Landaur and Graham Pollock take the lead and decide to hang a couple of 100 yards ahead of us up the climb. These guys of course did not realize that Richard Boettner was with us and they missed the climb of a lifetime. Rich has been taking it easy on the bike this year since he has a gorgeous little baby girl now, and he decided to stick with Paul and me to make sure that with did not break Liz and his tandem record set two years earlier with 13 hours and 11 minutes (or was it the thought of hanging on our wheel all day that sounded good to him?). This was a nice treat since Rich is a talker and his voice carries far. As we climb up the mountain we get to hear Rich exciting story of when he decided to try to break 11 hours on the Terrible Two. During this ride he had the engagement ring in his saddle pack (that at times was unintentionally opened!), had to walk up barefoot up climbs due to cramping so that his soles of his feet bled, paid 10 bucks for a bottle of Gatorade and pursued the race due to the "Daryn Dodge magnet". As we crest Mt Diabolo, we reach the exciting end of the story where Rich hold out the ring to Liz and proposes to marry her. I must say, one of the nicest climbs I have done.
Then we do a hairy descents down Mt Diabolo. I am as usual fully confident in my captains abilities and don't worry when the wind throws us everywhere. I hear little yelps from the back indicating that Rich is still there, at times enjoying and at times horrified of the speed. We have lost the other riders and there are still three ahead of us.
We thereafter have some rollers and then the next climb is on crusty roads in the canyon up to Morgan territory. Paul and I are doing well and enjoying the ride. Down from Morgan territory again the wind makes us dance and a somewhat pale Rich says he is going to call this ride `The dance of the seven winds' in case he survives on our wheel until the end of the ride. We find Graham on the side of the road with a flat tire and now there are only two guys ahead of us. As we start the ascent up Patterson we start feeling the heat. My lower back is starting to bother me quiet some. I guess another rider must have felt the heat too. As he pulls into the rest stop, he asks if the rest stop guy has a degree in medicine or is a paramedic. The rest stop guy quickly replies that he did pass his high school chemistry class, and then we have to leave so we never knew if high school chemistry could cure the worries of the anxious riders. On our way to the lunch stop at mile 110 we find Jeff and Sean. Rich wonders `How far to go? I could be home playing on the carpet with my little daughter now. I guess I am not in double century mode!' We enjoy their company as they enjoy the draft of the tandem. At one point Sean jumps of the bike and into the ditch, picks up some weeds and puts them in his mouth. I never had time to find out what it was, and was determined to ask him later (as he happened to win the race).
Lunch stop, quickly in and out, like all previous stops. Remembering some hot climbs with Paul last year, I decide to put plain water in my bottles. I would have liked to pull of my wind-breaker vest, but my lower back is now hurting so bad, that I can not even consider to carry it in my jersey pockets. I know that will make me hot going up Mt Hamilton, the stoker usually don't get any wind chill either.
But going up Mt Hamilton, it is my captain that quickly fades as the sun toasts him. The water in my bottles are now used to hose of captain. The snails start speeding past us on the road, and our drafter Rich finds himself pulling away from us. As God sent, we see a SAG vehicle water stop one mile from the top. I have used all the water on my captain and pretty dehydrated. Oh, that `seven-up' tasted so good, and we gracefully decline the offer of a `Snickers bar' , then we attack the last mile.
Thereafter a 5000 feet drop down from Mount Hamilton. My captain as usual does a great job descending and I can feel that it is hard work, even I get tired from the descent. We come into the next rest stop where Rich is waiting for us. Another soda, clif bar into pocket, two bottles full of plain water (yes I know what is coming) and go. We thereafter have a few miles in the shade and Paul is immediately starting to feel better. But it does not last long, for the next ascent is coming fast and this is the infamous Sierra road, with some 20 % grades in the toasty sun. All the energy is again zapped from my captain and we grind our way up the hill. I use every drop of water to hose down Paul and am very happy as we reach the rest stop at the top of Sierra hill. The major climbing has now been done, but the course record is probably not within reach. Paul and I take off with Jeff and Rich. As we reach the Calaveras rest stop we look on the clock and realize that in order to break the course record we have to ride 25 miles with quite some climbing in 1 hour and 20 minutes. `You can still do it' says Rich. And Paul and I will just have to give it a try. The sun is not bothering us in the canyon and slowly settling for the night. My captain has now found his energy again as it cools off. We time trial and give it our all with Jeff and Rich hanging on a as a tail. My lower back is now hurting really bad. Last climb, 5 miles to go, 15 minutes to break course record. `Cat, Dig deep!' says Paul as we hit the last hill. Then a downhill. We tuck down and pedal as fast as we can. Some through some streets in San Ramon as we head towards the finish line at the Marriott Hotel with time saying 13.10. Paul throws down the bike and says `Cat, run!' I hesitantly wonder where to run in road shoes, but stumble down some stairs through a door and scream `Berge and McKenzie'. The clock said 13.11. We had tied for the course record!! We are so happy. We would not want to steal anyone's course record with just one minute. We embrace each other and Rich and laugh at the last effort. Great final to the race.
We had a good race. Did the best we could. Paul is in early season shape and was bothered by the heat, but we did the best we could and had a nice race. We are pleased with our effort. I felt really strong through the ride and enjoyed it (apart from the lower back pain). I think it is the first time that a tandem has come in second place. All times are slower this year than other years due to the heat. Yes, I think I will want to do this one again!
Stoker Cat.

---